Takeoff Mode [App No Longer Available]
The 'ANA Takeoff Mode' app is a sort of a very simple, yet absorbing puzzle in which users need to successfully maneuver a certain ball on the screen in order to collect winning points, together with relaxing melodies played in its background. This app is truly unique because of its measurement of the frequency and amplitude response to the ambient sounds present inside the airplane cabin. When the plane's engines reach a full-throttle at takeoff, its audio profile stimulates a unique animation & message to the user. The game's puzzle aspect should prove specifically appealing. In a survey conducted, puzzle games came out second only to certain music when asked about ways that help to relax when flying.
This app is one of the initial apps to take full advantage of the FAA's announcement that airlines can securely expand passenger use of various Portable Electronic Devices throughout all flight phases.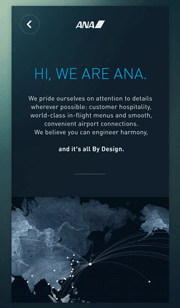 The Takeoff Mode app provides a unique experience with the staff paying close attention to the smallest of details in order to ensure that all customers enjoy a comfortable and anxiety-free flight. Thorough consideration has been put into every single stage of the flight journey. We are sure that the Takeoff Mode app will relax and ease flyers, enabling them to enjoy the flying experience.
ANA Takeoff Mode App No Longer Available for both Android & iOS users

The primary aim of this app, which has been designed by Captain Miki Katz, is to make sure all users have a safe flight via audio relaxation methods…
Read More »

Turbcast is a unique fear of flying app that is quite different than others. By providing the specific departing and arrival airport…
Read More »

Valk is described as your personal "in-flight therapist" developed by the VALK Foundations. It features everything you would want in an app…
Read More »