SOAR Mobile app
The life-disturbing fear of flying is quite common, and much of that fear arrives from an unknown source. The SOAR app on Android and iOS provides passengers information on airliners and flights from a highly experienced commercial pilot in order to help make your future flights far less stressful.
It certainly is a challenge to not be afraid of flying these days with the way the media tends to covers crashes and accidents, however, flying is still regarded as one of the safest ways of travel. That doesn't mean that having a certain fear of flying is completely abnormal. SOAR provides you the much-needed info that will help calm your worry throughout the entire process, covering the airport, take-off, the turbulence, landing, and all that is in between. Furthermore, there's an integrated G-Force monitor, which can be utilized to monitor the aircraft's G-Force when flying and actually observe it stay within the plane's safe limits. In addition, you may even receive an accurate turbulence forecast from the application before your actual flight.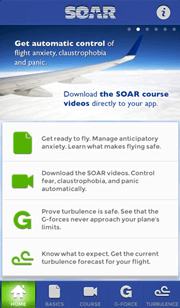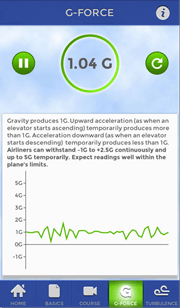 This special app is currently available for Android, iPhone, and iPad users. It was designed by Captain Tom Bunn. SOAR app provides essential access to weather details and information on how the various planes are kept and maintained safely. Considering its countless benefits and rare negative feedback, you should give this app a try yourself!

Overcome The Fear of Flying app by Glenn Harrold is a hypnosis relaxation app. The author has sold millions of CDs, MP3 downloads and Apps…
Read More »

Turbcast is a unique fear of flying app that is quite different than others. By providing the specific departing and arrival airport…
Read More »

Valk is described as your personal "in-flight therapist" developed by the VALK Foundations. It features everything you would want in an app…
Read More »